As is usual when a new project is afoot an appeal was made from the pulpit in 1955 for 'volunteers' to form a Group. Jim Buckley and John Mangion had already been recruited as Scouters by Major Cyril Laker (D.C. Scout for the Maidenhead area and a Catholic), but more help was required to get things started. Beatrice Stokes came forward to help and found herself in sole charge of 36 boys aged 8 to 11, (plus a waiting list) with only occasional help from the then 17-year-old Anne Abrey. The group registration can be found here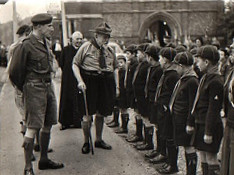 The first task was to raise funds for the equipment, followed by decorating the old Church Hall and making sure that the gas and the electricity supply was safe before any meetings involving children could be held.
The first Scout camp was held near Shurlock Row in the summer of 1956 and in 1957 John Mangion took some of the Scouts to visit the World Jamboree at Sutton Park, Sutton Coldfield in Warwickshire.
When the Cubs wanted to take part in the District Football Competition, Akela asked the G.S.M. for someone to train the boys in football. Again John Mangion, who was also a referee, came forward to help the boys, who gave quite a good performance in the competition.
John Mangion and Beatrice Stokes were married at St. Joseph's in Jan 1958 with a Cub and a Scout as alter servers and a guard of honour of Cubs and Scouts at the church door.
In 1960 the group gained its own premises on Holmanleaze and in the 1970s moved to its present Scout Hut . This enabled them to engage on more activities and giving proper storage space for the equipment.
In 2006, the group celebrated its fiftieth anniversary, still going strong with a full
compliment of Beavers Cubs and Scouts including, since January 2003, girls.
For some photos of the group in the past see here.